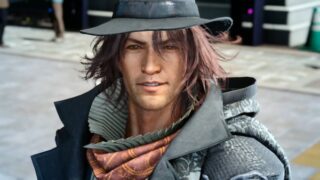 Final Fantasy XV downloadable content "Episode Ardyn" will launch in March 2019, Square Enix announced.
Here is an overview of Episode Ardyn from producer Yuji Shinoda director Takefumi Terada:
Terada: "Episode Ardyn takes place in Insomnia, approximately 30 years prior to the events of the main game, where he begins his revenge on the royal family, and in the midst of all this, you'll see him come to a revelation regarding his own destiny. The episode is a direct depiction of the story that couldn't be told within the main game."

Shinoda: "So it takes place prior to the main game?"

Terada: "Yes, that's correct."

Shinoda: "What are some of the highlights of this episode?"

Terada: "What I wanted to depict the most is showcasing Ardyn as he becomes enraged, or feels hatred or sorrow. A huge aspect we wanted to show players was his human qualities, so I see that point being one of the biggest highlights. Additionally, players may recall this being done in Episode Ignis, where we implemented wire action features that enabled players to essentially fly around Altissia, and this has also been incorporated into Episode Ardyn in the hopes that players will enjoy flying around Shinjuku."

Shinoda: "When you recall Ardyn in the main game, he seemed quite aloof, and didn't appear to show too much emotion, whereas in Episode Ardyn you intentionally show him feeling angry…"

Terada: "Yes."

Shinoda: "I mean, there are scenes where he's clearly enraged or even crying…"

Terada: "Yes."
Square Enix also announced a short animated work due out prior to Episode Ardyn called Final Fantasy XV Episode Ardyn – Prologue that will act as a prologue to the main game. It will provide context as to why Ardyn became wild for revenge.
The company also said that while 'Episode Aranea,' 'Episode Lunafreya,' and 'Episode Noctis' have been cancelled, it still hopes to deliver something that showcases what type of story it wanted to deliver in some way, shape, or form.
Final Fantasy XV is available now for PlayStation 4, Xbox One, and PC.
Watch a teaser trailer for Episode Ardyn below. View a new set of screenshots at the gallery. (Gallery also includes screenshots of Final Fantasy XV Multiplayer: Comrades and the Final Fantasy XV x Final Fantasy XIV collaboration quest.)