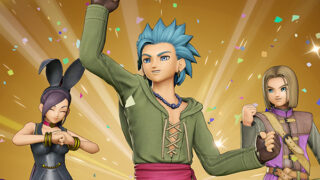 Total worldwide shipments and digital sales for Dragon Quest XI: Echoes of an Elusive Age have exceeded four million units, Square Enix announced.
That includes the following versions of the game:
Japanese (PS4, 3DS) – Released July 29, 2017
English, French, Italian, German, and Spanish (PS4, PC) – Released September 4, 2018
Korean (PS4)
The Japanese 3DS version last appeared on the Media Create sales charts in October 2017 at 1,741,582 retail sales, while the Japanese PlayStation 4 version last appeared in September 2017 at 1,347,582 retail sales. We also know that 113,182 digital copies were sold on PlayStation 4 and 62,939 digital copies were sold on 3DS in Japan in the game's first two days of release. That said, at least 3,266,285 sales come from Japan.