Ushiro revival teased for Switch [Update]
The cancelled PSP title returns.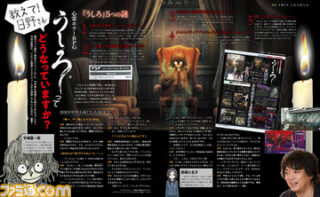 The latest issue of Weekly Famitsu has a 40-page feature on Level-5, including a long interview with president and CEO Akihiro Hino, in celebration of the company's 20th anniversary.
In the interview, Hino discusses his memories of when the company was first established, its secrets to producing major hits, and the company's vision for the future. There is also a special dialogue about the goals of the new company Level-5 Comcept, which is a collaboration between Hino and Keiji Inafune.
Additionally, the feature includes comments from creators close to Hino, a first-ever look at the proposal for Professor Layton and the Curious Village, and more. The cover of the magazine is illustrated by Level-5's Takuzou Nagano, who created the designs for popular characters such as Professor Layton, Mamoru Endou, and Jibanyan.
Finally, the feature includes a major scoop. While Famitsu's online preview of the magazine does not say it directly, it appears that the 2008-announced, later-cancelled PSP title Ushiro is being revived for Switch. Its online preview is titled, "Whhat!!! The Phantom Game Ushiro [is Coming?] to Switch!?"
Weekly Famitsu releases on Thursdays in Japan, but information from the magazine usually leaks on Wednesday mornings (Tuesday nights Eastern time). Look forward to more information then.
Watch a trailer for the cancelled PSP version of Ushiro below.
Update 10/24/18 at 12:39 a.m.: Read more here.