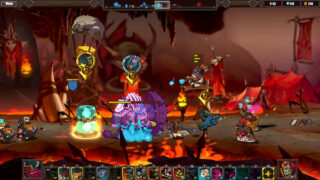 Swords & Soldiers II: Shawarmageddon will launch for PlayStation 4 via the PlayStation Store and PC via Steam on November 6 for $19.99 / €18.99 / £16.99, followed by Switch expected to release in December, developer Ronimo Games announced.
Here is an overview of the game, via its Steam page:
About

Swords & Soldiers II: Shawarmageddon is an action-packed side-scrolling real-time strategy game from the makers of Awesomenauts. Fight to control the map and push the enemy back to their base in a highly tactical tug of war. Battle in online and split-screen multiplayer, duel the devious AI in skirmishes, or enjoy the extensive single-player campaign.

Mine valuable gold so you can unlock any of the 50 units, buildings and spells that suit your play style, then unleash your armies and magical powers to counter your opponent's strategies and make sure nothing's left of their base!

A 10 hour single player campaign gives you command of Redbeard and his Vikings. Join them as they fight their way through the forests of Vikingland, the scorching sands of Persia and even the nether regions of Hell, on a quest to retrieve the sheep that have been stolen from their favorite shawarma shack. Time to settle this injustice the Viking way!

Vikings, Persians and Demons! Play any of three deadly factions, each with their own unique units and spells as well as distinctive strengths and weaknesses.

Key Features

Side-scroll over your enemies: Defend your base, claim resources, and use over 45 units, spells and buildings to run down your enemy!
Find the perfect Shawarma!: As Chief Redbeard, you and your Vikings must fight your way through an extensive 45 level single-player campaign across tundra, forests, deserts, and the pits of hell to find out who stole your dinner!
Strategize and customize: Use the Custom Army feature to conscript your favorite troops, spells, and structures, then pit them against your friends!
Multiplay it your way: Play online, via local network, or split-screen in intense one-versus-one battles and level your opponent's base!
Play the waiting games: While waiting for your rival to show up online, you can enjoy all kinds of mini-games—battle it out against the AI in a skirmish or go for a high score.
Watch a new trailer below.