Starwing Paradox launches November 21 in Japan
Square Enix's high-speed competitive mecha action arcade game.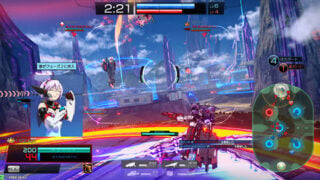 High-speed competitive mecha action game Starwing Paradox will launch for arcades in Japan on November 21, publisher Square Enix announced. View the full list of planned locations here.
Starwing Paradox features world setting creation and animation handled by Sunrise, with top staff including Sunrise producer Naohiro Ogata (known for Mobile Suit Gundam Unicorn, etc.), character designer Yoshiyuki Sadamoto (Neon Genesis Evangelion character designer, etc.), mecha designers Ippei Gyoubu (Mobile Suit Gundam: Iron-Blooded Orphans mecha designer, etc.) and Jun'ya Ishigaki (Xenogears Gear designer, etc.) having worked on the title. The game combines high-quality animation with high-speed mecha action for a maximum of eight-versus-eight online battles. The arcade unit itself will provide a realistic robot piloting experience by moving based on your in-game movements.
Square Enix also released preview cuts from the game's official theme song video. The theme song is composed by Yoko Kanno with lyrics by Ameko Kodama and vocals by Chelly (Egoist). The animation is done by Sunrise.
View a new set of screenshots and the theme song video cuts at the gallery.