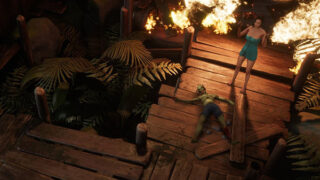 Publisher Forever Entertainment and developer Sushee have released the first screenshots of Fear Effect Reinvented ahead of its playable debut at Paris Games Week 2018 from October 26 to 30.
Here is an overview of the game, via Forever Entertainment:
Fear Effect Reinvented is a refreshed version of the original Fear Effect. The original version of the game had launched in 2000 and was well recognized by both players and critics, thanks to which around one million copies of Fear Effect were sold worldwide. The new version will be characterized by a completely new graphics in accordance with today's standards and a few gameplay modifications, making the game more appealing for today's players, while remaining faithful to the original story-wise.
Fear Effect Reinvented is due out for PlayStation 4, Xbox One, Switch, and PC in 2018.
Thanks, ResetEra.