Best Buy to stock select Limited Run Games titles, including Yooka-Laylee for Switch and Golf Story
Plus a currently unannounced title.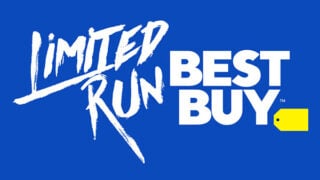 Best Buy will stock select Limited Run Games-published titles, including the Switch version of Yooka-Laylee and Golf Story, the company announced.
The retailer also ordered another upcoming game that hsa yet to be announced by Limited Run Games, which the publiher says "is not a past title or something currently available from us."
Limited Run Games clarified that Best Buy will not be carrying Broken Age, Layers of Fear, or any of its past or current PlayStation 4 and PS Vita titles.
Here is a FAQ about the partnership, via Limited Run Games:
1. Haven't you guys gone on record as being opposed to traditional retail?

Traditional retail usually results in very bad margins for developers, often so bad that they only earn $2 or less per copy sold. This partnership with Best Buy is done in a way that eliminates many of the traditional middle-men involved in brick and mortar retail, ensuring developers still get what they were already expecting to receive on each unit. Expanding into retail means that we can reach a wider audience and make more money for developers, which means that those developers will have more to operate with as they make their next great games!

Having a traditional retail outlet also gives us what we need to appeal to the larger publishers, many of whom have digital games that were previously out of reach due to concerns over the lack of traditional retail in our capabilities. Having this partnership with Best Buy means that we will be able to sign bigger and better titles, which means less great games rotting on digital storefronts!

2. Will Best Buy carry everything you release?

No—100 percent no. They are only interested in very specific games and now that this partnership is officially underway, we will be able to know, well in advance of release, which games Best Buy wants. This information will be relayed to customers in a clear and upfront way, meaning if you prefer to try and get the game at Best Buy, versus buying it from us–you can!

3. Aren't these reprints?

No, all Best Buy games have been ordered at the same time as all of the copies of each of these titles. Best Buy has not been given access to any titles that were already ordered. We've said no reprints since we started back in 2015 and this does not change that. Best Buy also has no ability to re-order these games from us. They are ordering a flat quantity, which means once they sell out–they're sold out forever.

4. Won't going to retail make these not limited?

No, Best Buy is getting these in limited quantities with no ability to re-order and once they sell out, they've sold out. We're not quite sure how Best Buy splits their stock amongst stores, but we're expecting at the low quantities they've purchased from us there will only be three-to-seven copies of any given title on a shelf at release. These games are not suddenly getting the huge print runs that traditional physical releases get. Even Yooka-Laylee, which is the title Best Buy has expressed the most interest in, will still have an overall print run under 25,000 units. Most traditional retail games are receiving initial runs well above 100,000 copies. With one game in particular, Best Buy has only expressed interest in 5,000 copies, meaning most stores will be lucky to see 2 copies on the shelf (considering some units will be allocated for online sale).

It is also worth mentioning that the products Best Buy will be receiving are all items that we are selling as open pre-orders. If we were not working directly with Best Buy–nothing is stopping them from ordering through our normal channels since these games are manufactured to demand.

5. I've already bought these from your site, will Best Buy get them before me?

No, our customers come first. Standard editions will ship to our customers before Best Buy begins stocking copies on their shelves. Collector's Editions are still subject to increased manufacturing times depending on contents, so we can't guarantee those will ship ahead of Best Buy (especially not in the case of Golf Story–where the trophy won't be in our hand until January), but it is worth noting that Best Buy will never carry our Collector's Editions–they will always be exclusive to our site!

6. Will there be a way to differentiate games on your site from the ones Best Buy carries?

Yes. Best Buy versions of these games, while they will still be numbered as part of our Limited Run Switch Collection, will have different cover art than the versions sold on our site. This means that your purchase through our site is still exclusive and special versus what could be found on a shelf at Best Buy.

Best Buy copies of our release will also not come with any trading cards. Those are completely exclusive to our site.

7. I don't have a Best Buy in my region, but I want the cover art variant, what can I do?

Fear not, we will offer the Best Buy cover sheets, professionally printed, on our site for $0.99. This means you can easily get those covers and add them to your collection. Nintendo sells empty Nintendo Switch cases on their site in packs of five, which you can utilize as a home for your cover sheets. We're offering this as a way to ensure people don't have to buy multiple copies of the game just to get the unique cover art! People who buy the game at Best Buy will not have the opportunity to purchase our site's cover in the same way. The exclusivity of copies purchased through our site will be maintained in every way.

8. Will these games only be available in-store?

No, they will be in-store and online. We're not sure yet if Best Buy Canada will have these games as we don't know how interconnected Best Buy Canada is with the Best Buy U.S. We have no idea how Best Buy will handle splitting quantities between online and in-store.

10. How will I know which games Best Buy will stock?

We want to clearly state this again just so everyone knows to look out for it–we will let people know upfront, before release, when a game will be available at Best Buy. If we don't mention it, you can safely assume it will not be available at Best Buy! Please be aware that Best Buy's quantities are hard-limited, so while quantities on our site are open and flexible for these products, quantities at Best Buy will not be. If you choose to opt to buy from Best Buy, you have no guaranteed chance at getting the game. The open pre-order system is a benefit that will only be provided by our website.

11. You mentioned this ahead of time for Yooka-Laylee, but you did not for Golf Story–what gives?

We had hoped that the Best Buy deal would be solidified in time to announce it in a concrete way for Golf Story. Because this deal ended up taking longer to finalize, it slipped through the cracks that we hadn't mentioned that Best Buy was interested in the game. We're sorry this happened and that we were not upfront about this particular game's possible availability in Best Buy. If you want to gamble your chances on getting a Best Buy copy, we will honor cancellation requests for Golf Story through the weekend. As a token of our sincerest apology for not being forthcoming about this information, we will reach out to any remaining purchasers of Golf Story next week with a discount code for use on a future order. Again, we're very sorry that this information slipped through the cracks! We made sure to call out the possibility in our Yooka-Laylee communications, though!

12. I have more concerns that were not addressed here, what should I do?

Please email us at [email protected] and we will make every effort to respond to your concerns. We truly care about our customers and want to make sure that everything regarding the Best Buy partnership is clearly and concisely communicated.

We've been receiving threats of physical violence over this partnership. We understand that it may be frustrating to people who would have liked to use their Gamer's Club discount on Yooka-Laylee and Golf Story, but we would appreciate it if people could maintain an open mind about this. We're going to make sure that we do right by our fans! If this partnership does not end up being the right move for us as a business, we won't continue to pursue it on future titles.