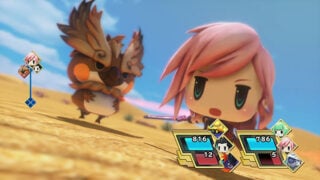 Square Enix has released the Tokyo Game Show 2018 trailer for the recently announced World of Final Fantasy Maxima.
Here is an overview of the game, via Square Enix:
Powering up the original release from 2016, World of Final Fantasy Maxima will bring new Final Fantasy champions and Mirages to add even more fun and excitement to its unique adventure. It also introduces an all-new Avatar Change System, giving players the ability to fight exhilarating battles as legendary Final Fantasy heroes, including Noctis (Final Fantasy XV), Yuna (Final Fantasy X), Lightning (Final Fantasy XIII), and many other fan favorites.
World of Final Fantasy Maxima is due out worldwide for PlayStation 4, Xbox One, Switch, and PC via Steam on November 6
Watch the trailer below.