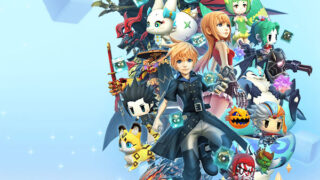 Square Enix has announced World of Final Fantasy Maxima, an enhanced version of the original World of Final Fantasy. It will launch worldwide for PlayStation 4, Xbox One, Switch, and PC via Steam on November 6.
PlayStation 4 and PC users who already own the original World of Final Fantasy will also be able to purchase the newly added content via the "World of Final Fantasy Maxima Upgrade" downloadable content for 2,400 yen. (Western price not yet announced.)
Here is an overview of the game, via Square Enix:
If you want a crash course on what Final Fantasy is all about, as well as the chance to meet many of the heroes from different Final Fantasy games in one place, then World of Final Fantasy Maxima is for you!

World of Final Fantasy Maxima is the powered up version of World of Final Fantasy which was originally released in October 2016.

Embark on a magical journey with siblings Reynn and Lann as they explore the vast land of Grymoire to rediscover their past and save the future.

With charming and stylized visuals, you can capture, customize and evolve iconic creatures by stacking them to form adorable yet strategic monster towers.

New characters from Final Fantasy lore (Champions) and monsters (Mirages) add even more fun and excitement to this unique adventure in World of Final Fantasy Maxima!
Here are some additional details via the game's Japanese official website:
Point 1: Become a Final Fantasy Hero and Fight! – Lann and Reynn can transform into the characters of successive Final Fantasy titles and battle, and activate the dedicated abilities of each character. In addition to the legendary characters that have appeared thus far, new legends will also appear…!
Point 2: New Mirages – Unique new Mirages will also appear in Maxima. Certain characters from older Final Fantasy series titles will even appear as Mirages.
Point 3: Go Fishing with Noctis! – A new mini-game where you can fish with Final Fantasy XV protagonist Noctis has been added. The mini-game has its own dedicated background music.
Watch the first footage below (0:58 to 1:21). View a set of screenshots at the gallery.