The Caligula Effect: Overdose for PS4 coming to Asia in English on October 31
Get it before its early 2019 western release.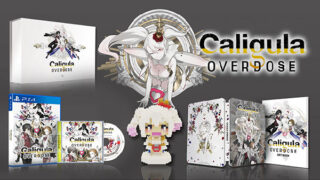 While NIS America will release an English version of The Caligula Effect: Overdose for PlayStation 4, Switch, and PC in early 2019, Korean publisher H2 Interactive will release the game for PlayStation 4 in Asia with English and Chinese subtitles on October 31.
The game will be available in two editions:
Standard Edition ($54.99)


Pre-Order at Play-Asia with $3-off coupon code "GEMATSU"

Limited Edition ($109.99)
Pre-Order at Play-Asia with $3-off coupon code "GEMATSU"

A copy of the game
Official soundtrack (13 tracks)
Official art book
Steelcase
Nanoblock figure
Limited Edition special box
Here is an overview of the game, via Play-Asia:
About

Game developer and publisher FuRyu officially announced Caligula: Overdose last November 2017 via a live stream. Caligula: Overdose will be a full remake of the PS Vita title, The Caligula Effect, which was developed by Aquria.

Furthermore, H2 Interactive got the publishing rights for the Asia Version of Caligula Overdose and developed by the good team of FuRyu. This upcoming remake is getting reworked with Unreal Engine 4, which enhances its graphics and user interface, as well as its accessibility. In addition, this remake will feature dual story routes, renewed features, and new and returning characters.

Also, FuRyu granted one of the most requested features of the fans, which is the option for a female protagonist. FuRyu will add it in and she will be voiced by the famous Miyuki Sawashiro. In fact, she is the elder sister of Chiharu Sawashiro who is the voice actor for the original male protagonist. And we have spotted a Twitter user who's excited for this brother and sister portrayal in Caligula: Overdose. See his reaction to this below.

Key Features

Caligula: Overdose boasts enhanced visuals and gameplay. Explore new scenarios, endings, and the "Forbidden Musician Route" while escaping the virtual world of Mobius.
Play as the newly added female protagonist. Plus, meet two new members of the Go-Home Club, who each have their own new Ostinato Musician to face.
Turn-based battle meets exhilarating action in this refined JRPG battle system. Develop a flawless strategy after using the Imaginary Chain to predict what your enemies will do next.
Sometimes, it's hard to go it alone. Befriend over 500 other students in this imaginary paradise to improve your skills in battle and ultimately return to reality.
If you missed it this past weekend, watch a new story trailer here.