Omega Labyrinth Life teaser trailer, screenshots
"Roguelike RPG x slow life x oppai."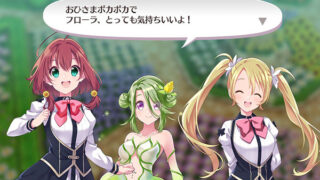 D3 Publisher has released the teaser trailer and first screenshots for its upcoming "roguelike RPG x slow life x oppai" game Omega Labyrinth Life.
Here is a summary of the game's story, via our previous coverage:
Story

The Bellefleurs Girls' Academy has an extremely large and beautiful garden.

There was a certain legend in this large garden. It is said that beautiful flowers will continue to bloom for eternity due to the miraculous power emitted by the holy flower "Flora" that blooms in its center.

At this school attended by ultra high-class girls, the first transfer student since its founding had arrived.

Her name is Hinata Akatsuki.

Although Hinata's heart was filled with expectations of her new school life from hereon, the day after her transfer the flowers in the large garden that had never withered had suddenly all withered.

Having lost the garden that was their pride and the spiritual support to make their dreams come true, the students were upset…

In order to restore the beautiful large garden, Hinata and the others, each with their own feelings close to their heart, challenge the adventure of the holy cave.
Omega Labyrinth Life is due out for Switch in Japan in 2019.
Watch the teaser trailer below. View the screenshots at the gallery.