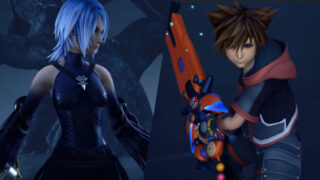 Square Enix debuted first footage of an Aqua boss battle in Kingdom Hearts III as well as new information during a stage event at Tokyo Game Show 2018.
Here are the information tidbits:
Although Kingdom Hearts III is the end of the Xehanort Saga, it not the end of Kingdom Hearts. Director Tetsuya Nomura said he wants to continue Sora's story.
Kingdom Hearts III's Gummi Ship was created by a dedicated team of 20 to 30 people. There are two modes: Exploration Mode and Cardboard Mode. Exploration Mode lets you freely explore an open-world-style, extremely spacious cosmos. In Cardboard Mode, cardboard, gems, sweets, and more appear as materials for Gummi Ship customization.
There are more than 20 mini-games.
There will be a secret movie. However, they are looking at different means of implementing it in order to prevent spoilers. This does not mean making the requirements to see the movie more difficult—rather, they are thinking about something like releasing it at a later date as downloadable content.
Online elements will be considered after work on the main story has been completed. They are looking over proposals.
Character ages:

Terra: Around 20 years-old
Aqua: Around 18 years-old
Ventus: Around 16 years-old
Young Xehanort: Between 18 and 20 years-old
Master Xehanort: Mid-80s

There are more than 10 worlds in the game, according to co-director Tai Yasue.
Kingdom Hearts III is due out for PlayStation 4 and Xbox One on January 29.
Watch the video below (from 31:59 to 32:36).
https://www.youtube.com/watch?v=tORuUe1oIUQ
Thanks, Games Talk.