Forgotton Anne coming to Switch in spring 2019 [Update]
Chorus Worldwide bringing the 2D adventure game to Switch.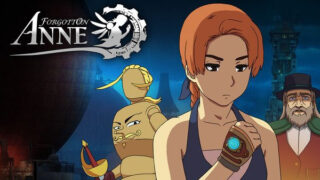 Forgotton Anne is coming to Switch in spring 2019, the latest issue of Weekly Famitsu reveals.
The Square Enix Collective-published 2D adventure game, which launched digitally for PlayStation 4, Xbox One, and PC in May, has yet to be released in Japan. Weekly Famitsu reveals that publisher Chorus Worldwide will release the game for PlayStation 4 and Switch in Japan in spring 2019.
Here is an overview of the game, via its Steam page:
About

Imagine a place where everything that is lost and forgotten goes; old toys, letters, single socks. The Forgotten Lands is a magical world inhabited by Forgotlings; creatures composed of mislaid objects longing to be remembered again.

Forgotton Anne is a seamless cinematic adventure with a focus on meaningful storytelling and light puzzle platforming. You are Anne, the enforcer who keeps order in the Forgotten Lands, as she sets out to squash a rebellion that might prevent her master, Bonku, and herself from returning to the human world…

Key Features

Discover a beautifully realised world of wonder filled with Forgotlings – charming everyday objects brought to life, bursting with personality.
Uncover the truth behind the harrowing conflict taking place between an impassioned ruler and ruthless rebellion.
Harness the power of Anima, the energy that brings life to the Forgotten Lands. Use it to solve puzzles and command ultimate control over Forgotlings' lives.
Choose carefully. Your words and actions can alter the tale being told thanks to a branching dialogue system that places the power in your hands.
Run, leap, and soar as you strive to guide Anne home, unlocking areas and abilities along the way.
Enjoy hand-animated visuals created using the same traditional techniques that brought your favorite animated movies to life.
Immerse yourself in a soaring orchestral score performed by the Copenhagen Philharmonic Orchestra.
Thanks, Famitsu.
Update 8:55 a.m.: Square Enix Collective has sent out the official press release:
Square Enix Collective is excited to that announce that, after a successful debut earlier this year, 2D cinematic adventure Forgotton Anne is heading to Nintendo Switch in 2019.

The story-driven adventure, set in the beautifully hand-crafted 2D cinematic Forgotten Lands, launched on console and PC back in May. Its forthcoming release on Nintendo Switch means it'll soon be available on all three major consoles, alongside the PlayStation 4 entertainment system and Xbox One family of devices, including the Xbox One X.

Forgotton Anne reveals the hidden dimension where all mislaid items from the human world – the odd socks, the lost letters, the missing toys – are sent to linger. It's the job of the Forgotlings – creatures formed out of all of these missing items – to help the trapped Anne and Master Bonku find their way home.

The end result is a game critics heaped praise on upon release, with Eurogamer describing it as a "brilliant" game with a "huge amount of heart" in its Recommended review, adding to GameReactor's assessment that it is "one of the standout experiences of the year" and VentureBeat's conclusion that it's a "wonderfully animated adventure".

"It was always only going to be a matter of time before Forgotton Anne made its way over to Nintendo Switch," says Alfred Nguyen, Creative Director and Co-founder of ThroughLine Games. "We are big fans of Nintendo's inventive platform and experiencing Forgotton Anne in handheld mode feels amazing even for us and we believe it's a perfect match for Switch's fast expanding audience."

"Forgotton Anne is undoubtedly one of the classiest, most dazzling adventures we've ever put out," says Phil Elliott, Director of Indie Publishing at Square Enix West. "Ever since we started showing the game at events around the globe, people have been spellbound by how ThroughLine Games has brought life and interactivity to anime – it truly is a captivating take on how to incorporate animation in gameplay that we think will really find a strong and loyal home on Nintendo Switch."

Forgotton Anne is already available on Steam for £15.49 / $19.99 / €19.99, on Xbox One for £15.99 / $19.99 / €19.99, and PlayStation 4 for £16.00 / $19.99 / €19.99.

The game will launch on Nintendo Switch with a 10% discount for two weeks (normal price £15.99 / $19.99 / €19.99).