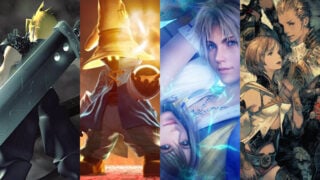 Final Fantasy VII, Final Fantasy IX, Final Fantasy X | X-2 HD Remaster, and Final Fantasy XII: The Zodiac Age are coming to Xbox One and Switch in 2019, Square Enix announced. All four titles are currently available for PlayStation 4.
Here is an overview of each game, via Square Enix:
Final Fantasy VII

The game that not only revolutionized the way in which videogames are both created and talked about, but also what they can represent. Final Fantasy VII changed the face of gaming back when originally released, going on to inspire an entire generation of Final Fantasy fans. We're bringing the original Final Fantasy VII to both Nintendo Switch and Xbox One!

The story starts in Midgar, a city controlled by the mega-conglomerate Shinra Company, where the No. 1 Mako Reactor has been blown up by a rebel group, AVALANCHE.

AVALANCHE was secretly formed to wage a rebellion against Shinra Company, an organisation which is absorbing Mako energy, destroying the natural resources of the planet. Cloud, a former member of Shinra's elite combat force, SOLDIER, was involved with the bombing of the Mako Reactor.

Can Cloud and AVALANCHE protect the planet from the huge, formidable enemy, Shinra Company?

Final Fantasy IX

Final Fantasy IX tells a grand story of love, war and betrayal.

Zidane and the Tantalus Theater Troupe have kidnapped Princess Garnet, the heir of Alexandria.

To their surprise, however, the princess herself yearned to escape the castle.

Through a series of unusual circumstances, she and her personal guard, Steiner, and a colorful cast of misfits band together with Zidane and set out on an unforgettable journey.

Meeting unforgettable characters like Vivi and Quina along the way, they learn about themselves, the secrets of the Crystal, and a malevolent force that threatens to destroy their world.

Final Fantasy X | X-2 HD Remaster

The only thing better than picking up a Final Fantasy game is picking up two!

Final Fantasy X absolutely lit up the sixth generation of consoles with stunning production values, including gorgeous graphics, a stunning soundtrack and a moving story.

Final Fantasy X tells the story of a star blitzball player, Tidus, who journeys with a young and beautiful summoner named Yuna on her quest to save the world of Spira from an endless cycle of destruction wrought by the colossal menace Sin.

Final Fantasy X-2 returns to the world of Spira two years after the beginning of the Eternal Calm. Having been shown a mysterious but familiar image in a sphere, Yuna becomes a Sphere Hunter and along with her companions Rikku and Paine, embarks on a quest around the world to find the answers to the mystery within.

Two of the greatest RPGs of their generation have been completely remastered to match modern standards, and Final Fantasy X | X-2 HD Remaster is the perfect way to experience both of these titles one after the other.

Final Fantasy XII: The Zodiac Age

Final Fantasy XII: The Zodiac Age improves upon the 2006 classic Final Fantasy XII, now more beautiful and easier to play than ever.

The high-definition remaster introduces several modern advancements, including reconstructed battle design and a revamped job system.

With newly implemented modern advancements, as well as stark visual and sound improvements in true HD for the first time, players both returning and new to the game will experience a grand adventure that spans the world of Ivalice in an entirely fresh and improved way.

Enter an era of war within the world of Ivalice. The small kingdom of Dalmasca, conquered by the Archadian Empire, is left in ruin and uncertainty.

Princess Ashe, the one and only heir to the throne, devotes herself to the resistance to liberate her country.

Vaan, a young man who lost his family in the war, dreams of flying freely in the skies.

In a fight for freedom and fallen royalty, join these unlikely allies and their companions as they embark on a heroic adventure to free their homeland.