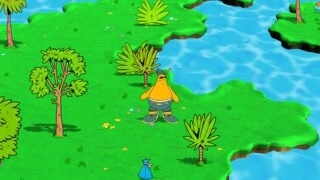 Limited Run Games will release a limited run physical edition of HumaNature Studios' ToeJam & Earl revival ToeJam & Earl: Back in the Groove for PlayStation 4 and Switch via the Limited Run Games online store this fall, the developer announced.
Additionally, if you are attending PAX West in Seattle from August 31 to September 3, Limited Run Games will be selling 500 ToeJam & Earl: Back in the Groove Sega Genesis-style cases including a high gloss trading card set and 18×24 inch poster.
ToeJam & Earl: Back in the Groove is due out for consoles and PC before the end of November.
Here is an overview of the game, via Steam:
About

ToeJam and Earl: Back in the Groove is an all-new adventure developed by the co-creator of the original ToeJam and Earl games, which famously infused hip-hop stylings with rogue-like game play.

Crash land on Earth and protect yourself with funky power-ups against dangerous Earthlings on an adventure to find all the lost pieces of the Rapmaster Rocketship. Play with up to three of your friends online or couch co-op and discover all the secret locations and powerful tools. ToeJam and Earl probably shouldn't have taken the Rapmaster on an intergalactic joyride, but at least they'll find all the pieces of it before Lamont notices that it's missing … right? Right.

Back in the Groove is a mash-up of the very best features of the classic console games with a ton of fresh features. Get a blast of funky nostalgia or play ToeJam and Earl for the very first time.

Key Features

Nine playable characters including: ToeJam and Earl, Latisha, Lewanda, GeekJam, Peabo, and Earl's mom, Flo.
Randomly-generated stacked levels to make every play through feel different in advanced mode.
Discover new secret locations and terrain types.
Jam to 15 re-makes of old favorite songs and 15 new songs in the same funky style.
Dynamic split-screen for couch co-op play, as well as online play — supports up to four players.
Enter the Hyperfunk Zone in multi-player co-op, too.
A huge number of new presents, Earthlings, player character stats, character-specific dialogue, permanent power-hats, and many features that enhance cooperative play and make this the best Toejam & Earl yet.