Square Enix executive producer Yosuke Saito to announce new, non-game project on August 17
90-minute live stream planned.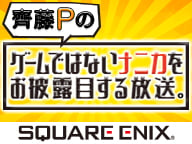 Square Enix will announce a new, non-game project from executive producer Yosuke Saito during a live stream on August 17 at 20:00 JST, the company announced. You will be able to watch it on Niconico.
The 90-minute live stream will feature host Hisanori Yoshida (actor, Nippon Broadcasting), Yosuke Saito (Square Enix), Dempagumi.inc (music group), Keiichi Okabe (composer, Monaca), and "plenty of other guests."
Stay tuned.