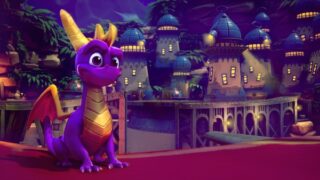 Publisher Activision and developer Toys for Bob have delayed Spyro Reignited Trilogy from its previously planned September 21 release date to November 13. It will be released for PlayStation 4 and Xbox One.
"Everyone here at Toys for Bob is so proud to be reigniting the original Spyro trilogy after all these years," Toys for Bob co-studio head Paul Yan said in a statement. "We're deeply committed to getting these games right, so we've decided to move the release date of Spyro Reignited Trilogy to November 13, 2018."
Yan continued, "I really hoped that you would be rescuing dragons and scorching Rhynocs sooner, but the Trilogy needs more love and care. In November when you're exploring the Dragon Realms, Avalar and the Forgotten Worlds, we know you'll agree the extra time was worth the wait."
Spyro Reignited Trilogy will include remastered versions of Spyro the Dragon, Spyro 2: Ripto's Rage!, and Spyro: Year of the Dragon.