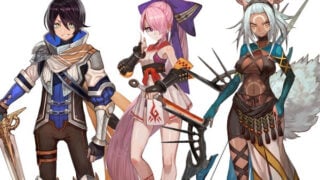 Kadokawa Games has announced the Japanese voice cast for the upcoming PlayStation 4, Xbox One, and Switch versions of RPG Maker MV.
As previously announced, RPG Maker MV for consoles will feature materials not included in previous RPG Maker titles, including character voices.
Here is the voice cast:
Carol the Protagonist (voiced by Tetsuya Kakihara)

Sakura the Kunoichi (voiced by Chika Anzai)

Meredy the Beastgirl (voiced by Konomi Fujimura)

Xun the Martial Artist (voiced by Misaki Suzuki)

Mavie the Black Mage (voiced by Chisato Mori)

Abando the Armored Warrior (voiced by Ryou Tachibana)

Alan the Arabian Knight (voiced by Daisuke Tonosaki)

Pupa the Puppet (voiced by Ayaka Maekawa)
RPG Maker MV is due out for PlayStation 4, Xbox One, and Switch on November 15 in Japan, and in 2019 in North America and Europe.