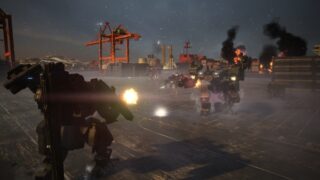 Square Enix showed the first gameplay of its Tokyo Game Show 2017-announced third-person shooter Left Alive to members of the press at Gamescom 2018. While it did not release that footage to the public, it did release a new set of screenshots.
DualShockers saw the footage, and sat down with director Toshifumi Nabeshima and producer Shinji Hashimoto. Here is the new information shared by the outlet:
Left Alive is not just a "boots on the ground shooter." There are also robot battles where one of the game's three protagonists pilots a Wanzer mecha from the Front Mission series.
Players will often be able to choose whether to fight the soldiers guarding the Wanzer mechas or take another approach on foot.
On foot combat is very tactical and offers limited resources. You must use traps, improvised weapons, and crafting to fight against enemies that outgun you.
Choice is a key element, including the rescuing of civilians trapped in the city. Each civilian has their own motive and backstory, and will take convincing to get them to follow you. You can also choose to abandon them if you are unable to convince them or have stopped caring.
At the end of the game, you will learn not only what happens to the three protagonists, but also to the civilians you rescued.
A release date for Left Alive has yet to be announced. It will be released for PlayStation 4 and PC.
View the screenshots at the gallery.
Update 11:10 a.m.: Here are a few more details, via IGN:
It is a cover shooter at its core. "Animations click into place unnaturally, and the spaces we were shown were very much of the "brown corridor" variety," but "the potential's there for far more interesting interactions than 'pull trigger.'"
Ammo is extremely scarce, making gunfights rarely the best option. "Weighty" crafting menus let you use the materials you collected to make "everything from Molotov cocktails, to tripwire bombs, to something like a RADAR grenade," which ping enemies' positions to you.
The characters are saving no only themselves, but also civilians from a near-future war zone. Conversations with civilizations take place via "dialogue tree-driven conversations." There are also action oriented civilian-saving sections.
One segment saw a group of enemy soldiers bickering over whether to execute a group of civilians, leaving it up to the player to decide whether to sneak past and conserve resources or save them for no reward. Only two or three civilians ended up making it. Every civilian saved will appear at the end of the game.
Most of your interaction with the Wanzer mechas of the Front Mission series will be in "avoiding or attacking them on foot."
Another section saw the player steal an enemy Wanzer to destroy an enemy squadron. Wanzers include four customizable weapon slots (two smaller arm mounted weapons and two heavier shoulder mounts), but melee is also an option via a thurster-driven charge attack.