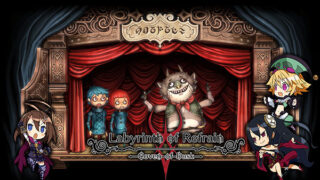 NIS America ha released a new trailer for dungeon RPG Labyrinth of Refrain: Coven of Dusk featuring a short puppet show.
Here is the premise of the performance, via NIS America:
As the curtain rises, we see two brothers who were slaves to a horrific, demented monster. They worked day and night in hideous conditions. The demon, a cursed monster, would torture the brothers to satiate his twisted desires. However, one day, having had enough of this injustice, the brothers attempt to escape their bane. As soon as they step out of bounds, the demon captures and tortures them even more, and horrific cries could be heard everywhere…

What happened to the brothers? What connection do they have to the labyrinth beneath Refrain? And what became of the demon?
And here is an overview of the game:
About

Become the living book, Tractatus de Monstrum, and command a brigade of puppet soldiers as you navigate the twisting passageways of the labyrinth of Refrain.

When at your base, prepare for your journey by upgrading your brigade! Create new puppet soldiers, assign them different squads and formations, synthesize better equipment, take requests from townsfolk, and get assistance from Dronya in the form of Witch Petitions.

Once you've entered the labyrinth, be sure to search every nook and cranny as you jump over barricades, solve puzzles, and smash your way through walls to delve further and further downward in search of treasure and rare artifacts. But be careful, the more riches you obtain, the more vicious the dungeon becomes. Can you survive long enough to bring your haul back?

Fight past terrifying monsters by giving orders to your puppet brigade. Change their formation, use special skills, or call for an all-out attack! The battles you face will be challenging, so your success depends on your preparation and your strategy.

Key Features

A Massive Maze – Dive into the miasma-filled labyrinth as the Tractatus de Monstrum along with your brigade of puppet soldiers to smite monsters and uncover dark secrets.
Fast-Paced Combat! – Strange creatures and traps of all sorts will stand in your path as you go deeper in the maze. Give orders to your army and crush them with special skills!
Build an Undefeatable Army – Create your very own puppet soldiers, grant them a variety of different roles, and assign them to specialized squads to make your own unique brigade!
Labyrinth of Refrain: Coven of Dusk is due out for PlayStation 4, Switch, and PC via Steam on September 18 in North America and September 21 in Europe.
Watch the trailer below.