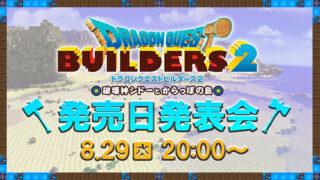 Square Enix will announce the Japanese release date for Dragon Quest Builders 2 during a presentation on August 29 at 20:00 JUST, the company announced. You will be able to watch it live on YouTube.
In addition to the game's release date, the presentation will feature all sorts of new information about the game. Featured guests include Yuji Horii (general director), Noriyoshi Fujimoto (producer), Takuma Shiraishi (producer), Kazuya Niinou (director), Saito-V (V-Jump editorial department), and Ranze Fukushima (actress).
Dragon Quest Builders 2 will be released for PlayStation 4 and Switch.