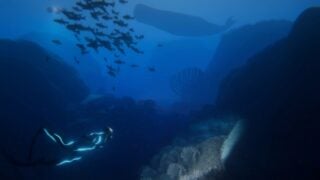 E-Line Media has released a 47-minute swim-through video of the ocean in its upcoming underwater exploration and adventure game Beyond Blue.
The E3 2018-announced title is set in the near future and will see players probe the mysteries of the ocean through the eyes of a newly formed research team that will use new technologies to see, hear, and sense the ocean "in a more meaningful way than has ever been attempted." It promises "an evocative narrative and high level resource management, challenging the player to make high-stakes decisions and prioritize which objectives can be successfully achieved during the crew's expedition."
Beyond Blue is due out for "PC and consoles" in early 2019.
Watch the video below.