Alim, tri-Ace, and Shueisha Character Business Bureau announce Mist Gears for smartphones
A cross-media project that also includes a manga and novel.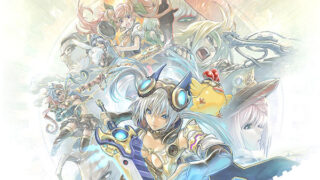 Alim, tri-Ace, and Shueisha Character Business Bureau have announced Project Mist Gears, a new cross-media project consisting of a smartphone game, and novel. While each form of media will be a standalone work, they will align with each other as "gears" to shape the world of Mist Gears.
Here is an overview of the Mist Gears smartphone game, which is due out for iOS and Android this fall in Japan, via its official website:
Story

"The Day of Purgatory."

On that day, the world was covered in mist—a mist of calamity—and people feared the worst natural disaster since the dawn of history.

The mist corroded the daily lives of the people. After that, the monsters appeared and humanity slowly went down the path of extinction.

"70 years after The Day of Purgatory."

70 years have passed, and the Valks Kingdom has begun its world restoration project.

Grasping tightly at the hope that is the Mist Gears—.

System

Mist Gears is an innovative "environment RPG" in which the mist covering the world circulates by means of an environmental simulator. With elements like organic fields that change by means of the mist, "Mist Gear" weapons and armor that unleash the abilities of "Mist Cores," which are skills that utilize the power of the mist, and up to four-person multiplayer, players will explore and adventure a ruined world with even deeper strategy and tactics.

—Enemies change in form and strength depending on the concentration and properties of the mist. Utilize the mist, and customize your weapons and armor.

—Predict, prepare, challenge, and at times avert—go on an adventure in a mist-infested world.

—Multiplayer gameplay and simple controls. And with Mist Core Overdrive, there are an infinite number of combinations. Attack strong enemies with original combos.

—Mist Gears' multiplayer is based on MMO elements for stress-free play. Various elements are being implemented including easy matchmaking, commemorative photos, a "Gathering Base" to make friends, speech bubble communication, highly customizable character creation, and more.

—Build a "base" to support your adventure. Your base will offer equipment upgrades and customization, HP recovery, shortcuts between bases, item synthesis, mining to secure resources, and more.

—A deep story written by Hajime Tanaka with manga-like production illustrated by Youichi Amano.
An Android closed beta test will run from September 7 at 12:00 JST to September 10 at 12:00 JST. Sign-ups are available at the Mist Gears official website from today until August 31 at 23:59 JST.
Watch the Project Mist Gears announcement trailer below.