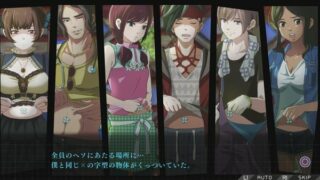 Zanki Zero: Last Beginning will launch for PlayStation 4 and PC via Steam in spring 2019 in North America and Europe, Spike Chunsoft announced.
In Japan, Zanki Zero: Last Beginning launched for PlayStation 4 and PS Vita on July 5. The PS Vita version will not be released in the west.
Here is an overview of the game, via Spike Chunsoft's Anime Expo 2018 panel:
■ Survival

Game Flow

Garage Island is the base of operations. From here you can explore any ruins that drift by.
You must find "something" deep within the ruins to clear them. As the story progresses, the next ruins will appear.
Conquer all ruins to solve the mystery.

Build Facilities and Improve Your Base

Various facilities can be build on your base.
Collect resources in ruins to build facilities.
Resources can also be used for upgrades.
A better base makes exploring better.

■ Clones

Clones with a 13 Day Life Span

The eight main characters are all human clones.
Clones are subject to fast aging.
After 13 days, they die of old age.
Death is unavoidable.
Differences between the age groups (child, adult, middle-aged, senior) include:

Child: Physically weak, but can fit in small crevices.
Adult: Physically strong, good for tough enemies.
Middle-Aged: High defense thanks to skills.
Senior: Physically weak, but can do charge attacks quickly.

Regenerating a New Clone

The protagonists can "Extend," or create new clones, to come back to life.
Levels, skills, and memories carry over to the new clone.
However, the new body will be created in child form.
Clones can only be created by the "Extend Machine," which is located on Garage Island and regenerates clones using the Score Points earned by defeating enemies.

"Shigabane" Makes You Stronger as You Die

"Shigabane" is a unique feature of Zanki Zero: Last Beginning.
When a clone dies, their next incarnation will gain a resistance against that cause of death.
The main characters get stronger as they die in various ways. For example, death by poison causes them to be resistant to poison, and death from a trap causes them to take less damage from traps.

■ Battle

A Free-Form Battle System

Real-time combat and exploration.
Use tactics that fit your play style. Run away, wait for enemies to approach, use traps, etc.

Well-Paced Action

Switch between standard attacks and charge attacks.
Cooldown times after each attack.
Press the attack button repeatedly to cycle through other party members.

Parts Break

Some enemies have breakable parts, like a tail.
Charge attacks destroy parts.
This weakens enemies or gives you special items.
Powerful combination attacks can be used by charging even longer to attack with several party members at once. Use these combos to destroy certain enemy parts.

■ Why Zanki Zero?

Discover the secrets behind each character and the truth of the mysterious storyline.
There are a wide variety of ruins to explore.
Unique game systems that are possible because the protagonists are human clones.
And here is the official fact sheet:
About Zanki Zero: Last Beginning

From producer Yoshinori Terasawa and game designer Takayuki Sugawara, the creators of the Danganronpa series, comes a new kind of survival game, Zanki Zero: Last Beginning. Explore the ruins, dungeons, and islands in this post-apocalyptic world through the perspectives of eight protagonists as they fight for survival and search for meaning in their never-ending cycles of life and death.

Story

God created the world in seven days. It only took one day for humans to destroy the world. Life as we knew it sank to the depths of the sea…until yesterday. We do not yet know the broken world and the reasons left behind there. An earth where ruins drift about. Buildings, houses, light posts. Cars, traffic lights, asphalt… Modern civilization was destroyed, becoming nothing more than debris wading in the sea. New ruins drift one after the other before the protagonist, who lives on one of those decaying islands.

Key Features

Eight Clones, Seven Deadly Sins, Infinite Lives – Play from the perspectives of one of eight protagonists in each chapter and explore the dungeons, towers, and islands to uncover the deadly sins of the protagonists' past.
Survival of the Fittest – Hunt for materials and food while fending off monsters in real-time battle environments, but don't forget to sleep, eat, and go to the bathroom (seriously, it's bad for your health and fatal for your party).
Live, Die, Repeat – With only 13 days in one life cycle, each clone's stats, abilities, and capabilities differ from youth to old age. Depending on how you die, you can even earn bonus upgrades for your next life cycle. Take advantage of each life cycle to the fullest!
Watch the Zanki Zero: Last Beginning Anime Expo 2018 panel below.