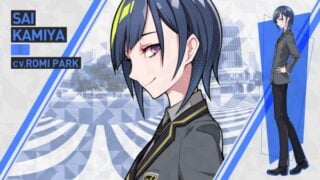 MyDearest has revealed the fifth main character to join the cast of Tokyo Chronos, its upcoming virtual reality mystery visual novel.
Currently, MyDearest is raising funds for the game's development on Campfire and Kickstarter. The game reached its Campfire funding goal on July 10 and is currently 38 percent funded on Kickstarter.
Here is an overview of the new character, via MyDearest:
■The Fifth Character, Sai Kamiya

Sai Kamiya (voiced by Romi Park)

He is the class president at his high school and the son of a well-known politician. Having handsome looks, an intelligent mind, athletic prowess and very few if any faults, he is the perfect person. Considered the brains among the 8 friends, in the past he used to lead the group alongside Sakurai. With the deep, personal connections he has, any problem is easily solved.

In the Chronos world though, something doesn't seem right with him…

About Romi Park

Sai Kamiya is being voiced by the famous Romi Park, who's popular around the world for her voice roles in popular anime such as Full Metal Alchemist (Edward Elric) and Bleach (Toshiro Hitsugaya). A living legend in acting as well, Romi Park is also head and founder of the seiyuu agency, LAL. We also had the honor of receiving a message of support from her.

Message from Romi Park

Hello, I'm Romi Park. I will be playing the part of Sai Kamiya in the VR mystery visual novel, Tokyo Chronos!

When it comes to the appeal of VR games, I think about the suspense and excitement it would feel to experience flying in the sky… or getting chased by a shark… But this title is not about those kinds of visual thrills. It is a thrilling experience that latches on to you and makes you want more in the 360 degree presence used to tell this story full of mystery and the suspenseful dialog to go along with it.
Who would have thought that you could dive into the world of a game and leap into the mind of a character… sorta. (Laughs.)

With Tokyo Chronos and beyond, I have high hopes that not only will you be able to feel the excitement and emotion of games but that games will level up to a point that it they will reach deep into your heart as well. As a voice actress as well, I want to be able to convey more realism in my acting and I'd be thrilled if that feeling reaches those that play this game.
Tokyo Chronos is due out for Oculus and Steam VR in early 2019, and PlayStation VR in May 2019.
View artwork of Sai Kamiya at the gallery.