CRYSTAR details story, world, and keywords
Fight through the world of limbo to save your sister.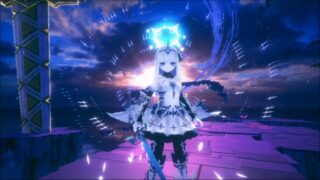 FuRyu has updated the official website for CRYSTAR, its upcoming action RPG developed by Gemdrops, with new information, video, and screenshots on the game's story, world, and keywords.
Get the details below.
■ Story

The young girl Rei opened her eyes, and before her was a world she had never before seen. As Rei struggled to make sense of this strange land where the souls of the dead drift, she came across her little sister Mirai, who also stumbled into this world.

Rei took the hand of the frightened Mirai and tried to find a way back to reality, but was separated from her when the ground suddenly collapsed. Rei, who developed unusual powers, traveled the new land in search of Mirai.

But when she found her, a woman who calls herself Anamnesis appears.

Rei discovered that she is the one who brought herself and her sister to this world, and fought Anamnesis in an attempt to return to reality. However, her powers had only just developed, and her power of reason began to slip away as she lost control. As if to ridicule Rei, Anamnesis departs.

Worried about her sister's disturbed state, Mirai extended a hand to Rei. "It's alright now. Oh, I wish we could hold hands again, big sister."

The out of control Rei tried to take Mirai's hand, but with that hand she unwittingly killed her.

Unable to believe she killed her own sister, a devil appeared before the confused Rei and proclaimed: when the dead Mirai's spirit reaches the deepest realm of limbo, Mirai will disappear. If Rei acts as a proxy for the devil and does as he asks, she may be able to revive Mirai before it is too late.

Rei hears the devil's words, and decides she will do anything to save Mirai. Then, the young girl falls to her harsh fate…

Screenshots

■ World

The twin devils Mephis and Pheles make a contract with Rei so that she will be a proxy for them. The proxy has two jobs. One is to deal with the spirits and ghosts that prevail in this world. The other is to gather the special crystal "Ideas" that grow in the world. In order to save Mirai, Rei acts as a proxy and travels between reality and the limbo of the other world.

Limbo

Another world where the souls of the dead wander. It is separated into several levels, and each are completely different. The dead Mirai's soul is still wandering in limbo, and in order to find her, Rei must progress towards the depths of limbo.

Reality

Because of a certain reason, Rei does not ever leave her room. A place occupied only by her dog Selma and no one else makes up the entirety of her reality. A large mirror in the corner is what connects the other world to this reality.

■ Keywords

Agent: These people have formed contracts with devils under various circumstances. In order to pay for their contract, they must gather "Ideas" and, as the duty of an Agent, hunt the spirits and and ghosts that wander in limbo.
Guardian: The "Ideas" of living creatures in limbo take form, and each have its own shape. This power can be used to transform, which is called a "blessing."
Souls: These are the souls of dead people who wander limbo without an awareness of self. They all look like butterflies. They can engage in simple conversation but since they are not self-aware they cannot offer real communication.
Spirits: Due to missing something in their souls when dying, this error causes these dead people's souls to develop self awareness. These are different from souls in that they take on a form based on the embodiment of an "Idea." Due to their missing souls, they cannot use words, but they do behave aggressively.
Ghosts: These are spirits with self awareness. They have a ring on their heads. Unlike Spirits, they can talk, and most of them want to come back to life, and they initiate contact by trying to suck the souls out of other ghosts and living beings.
Ideas: Body fluid emitted when in a state of fury by beings with self-awareness in limbo, which then crystalizes. Devils want it, and collect it.
Resurrection: Refers to dead people coming back to life. This can be achieved through a contract with a devil, and ghosts and other dead people suck up other souls in order to repair their souls and come back to life.
Soul Sucking: Ghosts who want to come back to life do this to other ghosts, or bring living people from reality into limbo to get their souls and repair their own souls.
CRYSTAR is due out for PlayStation 4 on October 18 in Japan.
View the screenshots at the gallery.