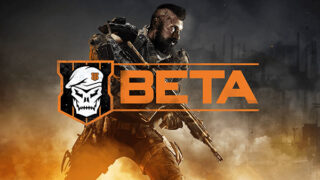 Activision has announced a private multiplayer beta and Blackout beta for Call of Duty: Black Ops IIII.
Here are the times for the private multiplayer beta:
PlayStation 4 Exclusive

Starts: August 3 at 10:00 a.m. PT / 1:00 p.m. ET
Ends: August 6 at 10:00 a.m. PT / 1:00 p.m. ET

PlayStation 4 and Xbox One

Starts: August 10 at 10:00 a.m. PT / 1:00 p.m. ET
Ends: August 13 at 10:00 a.m. PT / 1:00 p.m. ET

PC Beta Early Access

Starts: August 10 at 10:00 a.m. PT / 1:00 p.m. ET

PC Open Beta

Starts: August 11 at 10:00 a.m. PT / 1:00 p.m. ET
Ends: August 13 at 10:00 a.m. PT / 1:00 p.m. ET
All participants in the beta will receive a unique calling card. And every player that achieves max rank in the beta will earn a Permanent Unlock Token to apply to any piece of Create-a-Class content when the game launches.
Here is an overview of everything featured in the beta:
Six Maps

For the Private Multiplayer Beta, players will begin fighting through six maps – two of which will make their first public appearance. Additionally, fans will play new Specialists and reacquaint themselves with returning Specialists Nomad and Prophet, who will be bringing with them brand-new gameplay mechanics built for Black Ops IIII. Some additional intel…

Modes of Play

The Private Multiplayer Beta will feature fan-favorite game modes like Team Deathmatch, Domination, Hardpoint, and Search & Destroy, alongside our brand-new objective-based game mode, Control, which was designed to bring out the best of Black Ops IIII Multiplayer gameplay.

In Control, teams alternate rounds between attacking and defending two static objectives. Each team has a limited number of lives in this first-to-three wins match-up, so strategic strikes and defensive positioning are key, making for some fast and frenetic gunfights.

Gearing Up

We've brought the Pick 10 system back to Create-a-Class to give players complete customization over their loadout, and with its return comes a few new changes.

Load out with Special Issue Equipment that's designed exclusively for each Specialist without costing a point against Pick 10.

Gear is an all new slot designed to up the ante on your style of gameplay. Need cheaper Scorestreaks? COMSEC Device. Heal faster? Stim Shot. Gain an advantage in situational awareness? Acoustic Sensor. Only one piece of Gear can be used per loadout, so choose wisely.

Weapons now have unique sets of attachments, including a new class of powerful attachments called Operator Mods, to really focus each gun on its individual role in combat.

PC

Working in partnership with Beenox and Blizzard, the PC Multiplayer Beta will be exclusive to Battle.net.
The Blackout beta will begin in September, first on PlayStation 4. Blackout is the new battle royale-style mode in Call of Duty: Black Ops III. Read more here. More information will be announced closer to September.
Call of Duty: Black Ops IIII is due out for PlayStation 4, Xbox One, and PC on October 12.