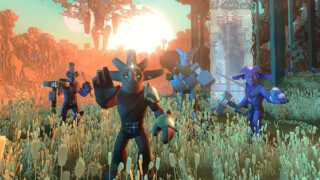 Boundless will launch for PlayStation 4 and PC on September 11, publisher Square Enix Collective and developer Wonderstruck announced. Wonderstruck will handle publishing of the PlayStation 4 version.
The single universe voxel sandbox massively multiplayer online game has been in Early Access on Steam since November 2014.
Here is an overview of the game, via Wonderstruck:
About

Offering gamers a single universe of connected worlds in which every element – the politics, the economy, the crafting and the communities – is entirely created and run by the players, Boundless ensures everyone is exploring, building, crafting, trading and collaborating within one single ecosystem.

One of the big draws of Boundless is the ability to open portals to travel seamlessly between diverse planets as you expand your adventure across the universe; or watch the sun rise on a volcanic world before joining friends to prospect for precious resources on a desert planet.

Starting with your first humble campfire, will you live a nomadic life in the wild, or found a new settlement with your allies from which to grow your empire? You can rally citizens to expand your city, competing to become the capital of your world and claiming the title of Viceroy.

Will you build a citadel, drive the economy, or craft masterpieces of technology? Join the hunt for exotic creatures, develop your homestead, or seek new horizons? Everything in the game is created by players – so if you want something, you'll either need to craft it yourself, or trade with others.

Boundless can be broken down into six main areas at launch – exploration, building, crafting, hunting, trading, and settlement-building – with players able to choose their place in a massive, open-universe sandbox. With the expanse of worlds around them constantly shifting and changing, players are encouraged to shape their role and play their part in a universe where anything is possible.

Key Features

Colonise planets by yourself or join a settlement with others and grow your Beacon into the capital of the world with the Prestige system
Craft hundreds of items including building blocks, tools, weapons, food and much more.
Spend your hard earned skill points in the Skill Tree and tailor your character to how you want to play the game.
Complete objectives, feats and events to earn rewards and Experience Points to level up your character.
Build and maintain a Portal between worlds for you and others to use.
Trade items with others or set up a shop to sell and buy items while you're off adventuring.
Seamlessly travel to new worlds and discover different creatures, resources, block colors and user generated creations in an ever-changing universe – each world automatically regenerates areas that are not protected by a Beacon and returns it to its original layout, creating new and much needed resources for you to collect.
Watch a new trailer below.