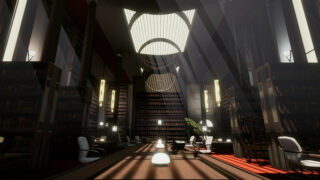 First-person puzzler The Spectrum Retreat will launch for PlayStation 4, Xbox One, Switch, and PC this summer, publisher Ripstone Games announced.
The company also shared an 11-minute gameplay video featuring commentary from game designer Dan Smith, who details the Penrose Hotel and its color-coded puzzles, showing how the basic color-swapping mechanics learned early on become more complex later. It also hints at the narrative arc of the game.
Here is a brief overview of The Spectrum Retreat, via Ripstone Games:
The Spectrum Retreat takes place in the near future at The Penrose hotel, a peaceful yet unsettling refuge from the outside world. As a valued guest, your existence is embedded into the corridors and guest rooms of The Penrose. Through exploration of the striking art-deco hotel you will begin to uncover the mysteries of both The Penrose and the uncertainties surrounding your current stay. Your desire to unearth the truth is obstructed by an array of color-coded first-person puzzles, mind-bending physics challenges and the growing fear of exposing your true intentions.
Watch the gameplay below.