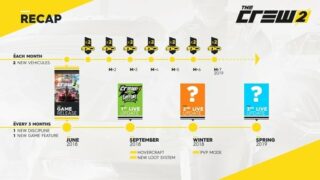 Ubisoft has announced the post-launch content plan for its upcoming open-world racing game The Crew 2, which includes free updates and a Season Pass.
Ubisoft will release "major free updates" every three months to "expand the game's experience, enrich its world and bring new disciplines, modes, and features." The first update, "Gator Rush," will be released in September and let players "enjoy a tropical cocktail of bouncy fun and wacky races on all kinds of surfaces and playgrounds, mastering a new and exotic discipline: the Hovercraft." The update will also introduce five new vehicles, as well as the new "Legendary" rarity level on performance parts that players will be able to collect.
The second major free update, due out in December, will add a new player-versus-player mode. In addition to major updates, Ubisoft will also add two new vehicles to the game's lineup every month.
By purchasing The Crew 2 Season Pass for $39.99, which is also included in the game's Gold Edition and Motor Edition, players will gain access to the following:
Three exclusive vehicles on day one, the Porsche 911 Turbo 3.6, the Supermarine Spitfire MK IX and the Ice Marine Bladerunner 35.
Seven days early access to the monthly added vehicles, totaling 22 vehicles.
One exclusive house location as well as two exclusive outfits.
VIP 20 percent discount off of the game store.
The Crew 2 is due out for PlayStation 4, Xbox One, and PC on June 29.
Watch a trailer for the post-launch updates and Season Pass below.
https://www.youtube.com/watch?v=Wm35uhfRRJo