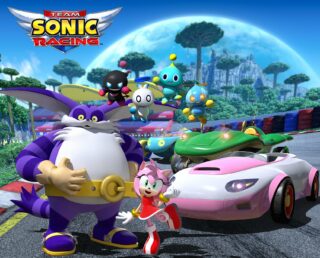 Amy Rose, Big the Cat, and Four Chao (all driving together as one) will be playable racers in Team Sonic Racing, Sega announced during Sonic Birthday 2018 at Tokyo Joypolis.
Here are details about each, via Sega:
Amy Rose [Speed] – the perky and always positive pink hedgehog that won't let anything stand in her way.
Chao [Technique] – a lovable creature that's eager to provide aid to teammates.
Big the Cat [Power] – a purple cat with a heart as big as his strong physique.
Previously announced characters include Sonic, Tails, Knuckles, Shadow, Rouge, and Omega. Six playable characters remain to be announced.
Team Sonic Racing is due out for PlayStation 4, Xbox One, Switch, and PC this winter.
Watch some new gameplay footage below (from 52:06 to 1:05:35).