Nidhogg 2 coming to Xbox One on July 19
Includes two new, exclusive levels.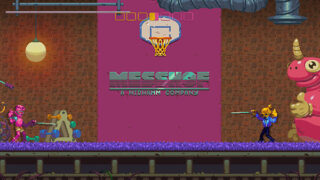 Nidhogg 2 is coming to Xbox One on July 19 with two new, exclusive levels, developer Messhof announced.
Here is an overview of the Xbox One version, via Messhof:
About

Only on Xbox One, take the fight to Messhof Corporate Headquarters and the Elevated Train as you fill out TPS reports with the fluids of your enemies and inject abject terror into your daily commute. Prepare for a simple game of tug-of-war, in which "simple" means "filled with sharp objects intended to puncture your enemies." Stab, cleave and impale anyone that dares stand in your way as you seek glorious sacrifice to the wurm at the other end of the screen.

Expanding upon the award-winning gameplay of its predecessor, Nidhogg 2 offers up new weapons, new levels, new ways to customize your slaughter, fashion-forward character customization, a grotesquely captivating art style courtesy of Toby Dixon, and sounds for your ear holes by acclaimed electronic artists Mux Mool, Geotic, Doseone, Osborne, and Daedelus.

Key Features

Challenge the AI or a friend in one-versus-one combat.
Fight for the top seat in 8-player tournaments.
Master the distinctive traits of four weapons.
Get stylish with full character customization.
12 stages (two exclusive to Xbox One) from castles to Nidhogg innards.
Alter the rules with over 10 different game variables.
Go online with matchmaking and private games.
Nidhogg 2 is available now for PlayStation 4 and PC. A Switch version is also in development.