Neo Geo Mini launches July 24 in Japan
Pre-orders now available.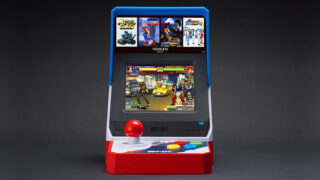 Neo Geo Mini will launch on July 24 in Japan for 11,500 yen, SNK announced.
Pre-orders are available now on Amazon Japan and the SNK Online Shop. Bundles including Neo Geo Mini Pad controllers and more are also available.
As previously announced, the Japanese edition of Neo Geo Mini will include the following 40 titles:
Aggressors of Dark Kombat
Alpha Mission II
Art of Fighting
Blazing Star
Burning Fight
Cyber-Up
Fatal Fury Special
Garou: Mark of the Wolves
King of Monsters 2
Kizuna Encounter: Super Tag Battle
Metal Slug
Metal Slug 2
Metal Slug 3
Ninja Commando
Ninja Master's: Haou Ninpou Chou
Puzzled
Real Bout Fatal Fury 2: The Newcomers
Real Bout: Fatal Fury
Samurai Shodown II
Samurai Shodown IV: Amakusa's Revenge
Samurai Shodown V Special
Sengoku 3
Shock Troopers: 2nd Squad
Super Sidekicks
The King of Fighters '94
The King of Fighters '95
The King of Fighters '96
The King of Fighters '97
The King of Fighters '98
The King of Fighters '99
The King of Fighters 2000
The King of Fighters 2001
The King of Fighters 2002
The King of Fighters 2003
The Last Blade
The Last Blade 2
Top Hunter: Roddy & Cathy
Top Player's Golf
Twinkle Star Sprites
World Heroes Perfect
Neo Geo Mini International, which is due out worldwide at a later date, will include 14 different titles from the Japanese edition.