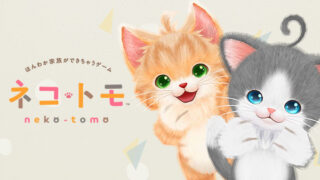 Bandai Namco has released the teaser trailer and screenshots for Neko Tomo, its newly announced cat communication game for Switch and 3DS.
Due out in 2018 in Japan, Neko Tomo is a relaxing communication game about becoming family with talking cats Nekoko and Tomomo. In addition to basic communication, players can also teach the cats words, which they will then use in conversation. By talking to and playing with the cats, players will become their family.
Additionally, Bandai Namco announced that the upcoming Taiko Drum Master: Nintendo Switch Version! will feature the Neko Tomo theme song "Honwaka Kazoku ~Neko Tomo no Uta~" as a playable song. And in Neko Tomo, players will be able to dress up Nekoko and Tomomo in the colors of Taiko Drum Master's Donchan and Kacchan.
Watch the teaser trailer, theme song music video, and announcement presentation below. View the screenshots at the gallery. Visit the teaser website here.
Teaser Trailer (Short Version)
Theme Song Music Video
Announcement Presentation
(Starts at 04:35.)