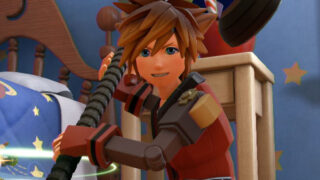 Kingdom Hearts III will launch for PlayStation 4 and Xbox One on January 25, 2019 in Japan and Asia, and January 29 in North America and Europe, Square Enix announced at the close of tonight's Kingdom Hearts Orchestra World Tour concert in Los Angeles. It was originally planned for release in 2018.
"I'm sorry that we're asking for a little more time than initially planned," Kingdom Hearts III director Tetsuya Nomura said in a tweet regarding the delayed release date. "Please look forward to other information, including a few trailers at E3."
A new trailer was shown to attendees of the concert, which features a scene with Zexion, Xigbar, and Lea; a scene of Hayner, Pence, and Olette running from a swarm of Heartless in Twilight Town; a scene of Kairi and Aqua sitting next to each other; and a scene of Sora cooking with Remy from the Pixar film Ratatouille. (Thanks, @TheGamersJoint.)
E3 2018 runs from June 12 to 14.