Hollow Knight for Switch available today
Includes all of the PC version's post-launch content packs.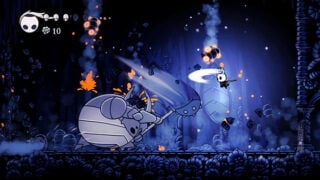 The Switch version of Hollow Knight will be available via the Nintendo eShop today, Team Cherry announced during the E3 2018 Nintendo Direct.
Here is an overview of the game, via Nintendo.com:
About

Forge your own path in Hollow Knight!

An epic action adventure through a vast ruined kingdom of insects and heroes. Explore twisting caverns, battle tainted creatures and befriend bizarre bugs, all in a classic, hand-drawn 2D style.

Key Features

Classic side-scrolling action, with all the modern trimmings. Dodge, dash and slash your way through even the most deadly adversaries.
Includes all of the new items, areas, characters, and bosses from the currently released free content packs; Hidden Dreams, The Grimm Troupe, and Lifeblood. All players will also get access to the final free content pack, Gods and Glory, due later this year!
Explore a vast interconnected world of forgotten highways, overgrown wilds and ruined cities. Choose which paths you take, which enemies you face and find your own way forward.
Evolve with powerful new skills and abilities! Gain spells, strength and speed. Leap to new heights on ethereal wings. Dash forward in a blazing flash. Blast foes with fiery Soul!
A haunting, intimate score accompanies the player on their journey, composed by Christopher Larkin. The score echoes the majesty and sadness of a civilisation brought to ruin.
Watch the launch trailer below.