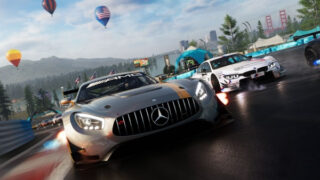 The closed beta for The Crew 2 will run from May 31 at 1:00 a.m. PT / 4:00 a.m. ET / 8:00 a.m. UTC to June 4 at the same time on PlayStation 4, Xbox One, and PC, publisher Ubisoft announced. Users can sign-up now at the game's official website. Pre-load will be available for selected players on all platforms starting May 29.
Here is an overview of the closed beta, via Ubisoft:
During the closed beta, players will experience the first level of the progression system as they compete in races across all first four disciplines – Street Race, Rally Raid, Powerboat and Aerobatics – against the backdrop of a fully redesigned USA, via land, water and air. To create more adrenaline-fueled experiences, players can use the Fast-Fav feature and instantly switch their vehicle type depending on the type of terrain they will encounter: an airplane flying underneath San Francisco's Golden Gate Bridge can turn into a boat with the touch of a button. As part of the closed beta, players can participate in the Motor Trend Classic Challenge which takes racers to New York City and has them compete with vehicles from the street racing family. Fueled by original series, exclusive events, top personalities and leading experts, Motor Trend is the #1 destination for automotive super fans via the Motor Trend app on iOS/Apple TV, Google Play, Roku, Xbox, Chromecast and Amazon platforms or via MotorTrend.com.
The Crew 2 is due out for PlayStation 4, Xbox One, and PC on June 29.
Watch a new set of videos below. View a new set of screenshots at the gallery.
Blazing Across America Gameplay and Interview
Coast to Coast Trailer