The Caligula Effect: Overdose details day one update
Additional end-game content and more.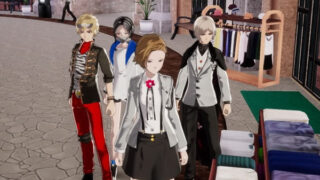 The version 1.01 update for The Caligula Effect: Overdose will launch day and date with the game in Japan and add various new elements, publisher FuRyu announced.
Get the patch notes below.
New End-Game Elements Added

"Dream Seen by the Songstress" System Unlocked – After clearing the game and by meeting certain conditions, you can form a party made up of members of both the Go-Home Club and the Ostinato Musicians. Enjoy end-game content such as the World Reward system with the freedom of party organization. There are also new battle quotes between members of the Go-Home Club and the Ostinato Musicians, so try various combinations to hear them all.
Boss Battle Rematch Feature Added – With clear save data, you can challenge the bosses you have previously defeated. You can fight a boss again by going to the place you previously fought them. Also, rematches with the Go-Home Club can be done after the protagonist reaches the last door of Gran Guignol in the Lucid state.

Game System Expansions / Adjustments

"World Reward" System Added – By collecting words dropped into the game, you will be able to fight enemies "carrying the weight of a unique trauma." There are also words that unlock stronger enemies than those in the main story, so try them after clearing the game.
Auto-Battle Featured Added – By pressing the Options button during battle, you can use Auto to have the skills and actions of everyone except the protagonist chosen and performed automatically.
Item and Wire Sorting Features Added to the Main Menu
Feature to Change the Battle Difficulty at Any Time Added to the Configuration Screen in the Main Menu
Adjusted Parameters for Various Battle Skills and Stigmas

Other
The Caligula Effect: Overdose is due out for PlayStation 4 on May 17 in Japan.
View a new set of screenshots at the gallery.
Thanks, Dengeki Online.