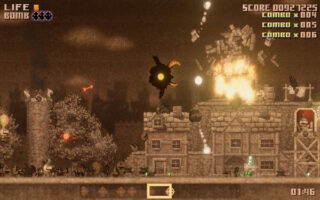 Million Onion Hotel developer Onion Games will release BLACK BIRD, its upcoming shoot 'em up first announced in 2016, for Switch via the Nintendo eShop, and PC and Mac via Steam this summer, the developer announced.
The game's staff includes:
Director: Yoshirou Kimura
Pixel Art: Kazuyuki Kurashima
Sound: Hirofumi Taniguchi
Level Design: Tom Ikeda
The latest version of BLACK BIRD will be playable at BitSummit Vol. 6 in Kyoto from May 12 to 13. Onion Games will also be selling a "BLACK BIRD 2018 Demo Download Card" for 100 yen, which will let users download the demo to play at home.
Before BitSummit Vol. 6, further information about BLACK BIRD will be announced on a Fresh live stream on May 3 from 20:00 to 21:00 JST.
Visit the game's teaser website here.