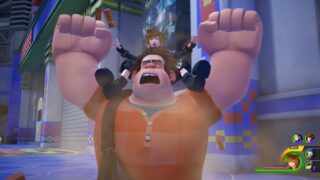 Several outlets went live today with the first-ever hands-on previews, including new gameplay footage and screenshots, of Kingdom Hearts III from a Premium Showcase event held this week.
Here are a few of the outlets covering the game today: 4Gamer.net (Japanese), Dengeki Online (Japanese), Eurogamer, Famitsu (Japanese), Game Informer, Gamer.ne.jp (Japanese), GameSpot, Game Watch (Japanese), IGN (2), IGN Japan, KH13, KHInsider, Kotaku, PlayStation Blog, PlayStation Blog Japan (Japanese), Polygon, RPGSite, ShackNews, VentureBeat, USgamer, and VG247.
Kingdom Hearts III is due out for PlayStation 4 and Xbox One in 2018. A release date was not announced at the Premium Showcase, but director Tetsuya Nomura told Famitsu that it will be announced in early June.
Watch the new footage below. View the screenshots at the gallery.
4Gamer.net
Dengeki Online
Easy Allies
Eurogamer
Famitsu
GameSpot
IGN
IGN Japan
VG247