Corpse Party 2: Dead Patient coming west this fall
The nightmare has returned.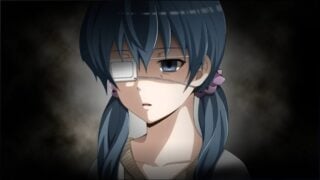 XSEED Games is bringing Corpse Party 2: Dead Patient to PC in western territories this fall, the company announced.
Here is an overview of the game, via XSEED Games:
About

The nightmare has returned five years after the events of Corpse Party: Blood Drive with an average junior high school student, Ayame Itou, suddenly finding her life turned upside down in the most unsettling way possible. Upon waking from a coma strapped to an operating table in a ransacked and seemingly abandoned hospital called "Amare Patriarcha Crucis," Ayame realizes she's locked in without any means of escape and with virtually no memories of her past. She is, however, not quite as alone as she first thought. Others occupy the mysterious hospital, but whether they are friend or foe remains to be discovered. Remains to be discovered…

Corpse Party 2: Dead Patient takes players on a dark and mysterious journey with Ayame and any other friendly faces she can find. Through the deserted halls of Amare Patriarcha Crucis, the party will solve inventory-based puzzles, collect medical charts of deceased patients, and avoid terrifying zombie-like pursuers in order to find much-needed answers, as well as—hopefully—a way out. Titled Corpse Party 2: Dead Patient NEUES in Japan, Corpse Party 2: Dead Patient is the definitive version of Dead Patient with updated graphics and additional scenarios. Corpse Party 2: Dead Patient exists as a standalone story within the Corpse Party series, allowing players to jump in regardless of their experience with past titles.

Key Features

Brand New Setting, Same Creepy Atmosphere: This time it's not an otherworldly elementary school, but a quarantined hospital full of bloodthirsty zombies, supernatural monsters, and scornful shades.
Unique Cast with Some Familiar Names: Features an all new set of dramatis personae, yet still rewards series fans by tying back into the Heavenly Host arc with a few familiar names.
More Interactive Environment than Ever Before: Items can be equipped and used directly on the environment to solve puzzles, or held and used in protagonist Ayame's hands for a variety of purposes. Ayame can also hide in cabinets to evade foes.
Original Indie Team's Return to PC: The same team responsible for the 2008 Windows PC edition of Corpse Party is back! Features top-down 3D graphics with dynamic lighting, 360° control, emotional Japanese voice-acting, and one of series composer Mao Hamamoto's moodiest soundtracks to date.
Watch some footage below. View a set of screenshots at the gallery.