Two minutes of Dragon Quest VR gameplay
Play it at VR Zone Shinjuku in Tokyo on April 27.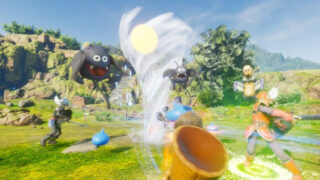 Famitsu has posted a two-minute gameplay video of VR Zone Shinjuku attraction Dragon Quest VR ahead of its opening event in Tokyo today.
Here is an overview of the game, via our previous coverage:
Dragon Quest VR lets players form a party of two Warriors, one Priest, and one Mage, equipped with a sword, shield, or staff developed specifically for the game, and venture out into the world with a mission from the king to defeat the Demon Lord Zoma. Players will be able to attack using the sword and spells like "Frizz" and "Heal" to repel the monsters that appear along the way. The game starts at the "Gates to the Kingdom," and from there plays out via three stages: "The Grasslands," "The Mountain Foot," and "Zoma's Castle." A healslime named Homily (voiced by Lynn) will act as the player's navigator.
Dragon Quest VR will launch at the VR Zone Shinjuku amusement space in Tokyo on April 27.
Watch the gameplay below.