Toki remake announced for Switch
1989 arcade game getting an update.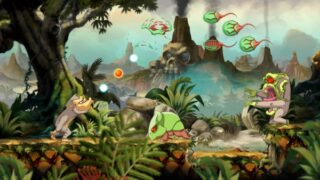 Microids has announced a remake the 1989 arcade game Toki (known as Juju Densetsu in Japan) for Switch.
The remake of the arcade classic, which stars the ape-like character Toki, sees the return of Philippe Dessoly, the artist for the original Toki on Amiga, to take charge of the art direction, and Pierre Adane, the developer of Toki.
"I have a very special relationship with this game, which I am particularly fond of – in a way it's my equivalent of Proust's Madeleine!" Dessoly said in a press release. "As soon as the music starts, I'm plunged back into the time when we ported the game to Amiga and Atari, when there was a very particular atmosphere in the video game sector. It's a very special souvenir for me, so 30 years later, when they asked me to do the remake, it was impossible to refuse. I really enjoy improving and reinterpreting character designs and backgrounds. I sincerely hope that a maximum number of players and fans of the original – like me – will have fun playing it."
Adane added, "I'm very proud to be able to be bringing Toki back to life. There is an immense amount of pleasure in working on a project like this. For some time now Philippe and I have felt like working together again, and I'm happy that that's coming together with Toki."
Here is an overview of the game's story, via Microids:
Toki, a human warrior, has a peaceful, primitive existence in the depths of the jungle with his beloved Miho. But they weren't counting on the witch doctor Doctor Vookimedlo, who, entranced by Miho's beauty, decides to kidnap her and transform Toki into a sinister-looking ape. With the help of the demon Bashtar, Doctor Vookimedlo takes Miho to his golden Palace far away. Determined to get her back, Toki sets forth on a perilous adventure to reach Doctor Vookimedlo's home, save his sweetheart and regain his appearance.

The former warrior must adapt to his new form: rather than using conventional weapons, he spits strange projectiles at his enemies to eliminate them. In the course of his quest, Toki finds items that help him reach his destination, including an American football helmet, a pair of ferns and a tuba.
View the first screenshots of the remake at the gallery.