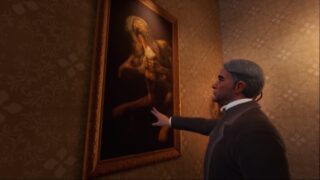 GameTrust and Tequila Works will release a non-virtual reality version of the October 2017-released narrative adventure game The Invislbe Hours for PlayStation 4, Xbox One, and PC on April 24, the companies announced.
The game was previously only playable with a PlayStation VR, HTC Vive, or Oculus Rift headset. This is also the first time it will appear on Xbox One.
Here is an overview of the game, via Tequila Works:
■ The Game

Tequila Works has created an immersive theater story that is now coming to players on TV consoles, in addition to virtual reality. The Invisible Hours is a complex murder mystery in the style of immersive theater, in which players freely explore and observe an intricate web of interwoven stories within a sprawling mansion – in order to untangle the dark truth at its heart. It is one of the deepest narrative experiences in gaming to date.

Time plays a critical role throughout the experience. All seven suspects' stories unfold in real time. For the player, this means seven very different but intersecting stories happening simultaneously. The player must carefully choose where to spend their time, offering a different perspective each time they enter The Invisible Hours. Depending on how the player explores, the game can take up to six hours to experience the different storylines.

As a player, you're completely immersed in the stories unfolding around you. Invisible to the cast, you have the unique experience of following and observing anyone at any time and self-exploring the mansion freely for hidden clues.

■ The Inspiration

The Invisible Hours is inspired by classic murder mysteries, such as Agatha Christie's masterpiece And Then There Were None, Hitchcock's Rear Window, as well as genre-busting period thrillers like Christopher Nolan's The Prestige, and the immersive theater of Punchdrunk. It also draws influence from the real-life rivalry between Thomas Edison and Nikola Tesla.

■ The Story

A group of strangers receive a curious invitation from enigmatic inventor Nikola Tesla, offering each of them the chance to make amends for their darkest wrongdoings. When the last guest arrives at Tesla's isolated mansion laboratory, they find him dead – murdered. Disgraced Swedish detective, Gustaf Gustav, vows to find the killer amongst the other guests: a blind butler, a convicted murderer, the world's most famous actress, Tesla's former assistant, the son of a wealthy railroad magnate, and rival inventor Thomas Edison. But none of these people are what they seem.

■ Unique Blend of Narrative and Gameplay

One of the first video games to offer players a spherical narrative with seven concurrent, interwoven narratives.
Updated, television version game (non-VR) features locomotion, allowing the players to freely move themselves around within the game.
Large, non-linear experience.
Key interactions lead to new clues.
High replayability to discover each character's backstory.
Classic murder mystery meets science fiction thriller with a deep multilayered plot.

■ The Cast

Rob Yescombe, writer and narrative director (The Division, Farpoint, RiME).
A cast of international actors:

Mark Arnold (Criminal Minds, Desperate Housewives)
Katherine Carlton (Downton Abbey, All that lives)
Uriel Emil (The Bourne Ultimatum, Homeland)
Grahame Fox (Game of Thrones, Sons of Liberty)
Bentley Kalu (Avengers, RED 2)
Patrick McNamee (Inspector George Gently, Sweeney Todd)
Henning Valin (The Killing, The Last Kingdom)
Fiona Rene (Sinister Squad, Fortune Cookies)

■ The Characters

Nikola Tesla – The Victim

"The scientist's dream is to know the result before the experiment."

World famous inventor, futurist and arch rival of Thomas Edison. Until a few months ago, Tesla was a flamboyant socialite – regularly seen charming potential investors at the finest restaurants in the city. And then suddenly, he cut ties with everyone. He stopped taking visitors, and fired his long-time assistant, Flora White. He became a recluse overnight, never leaving the workshop in his mansion, and no one knows why. Soon after, Tesla advertised for a new assistant – with one strange condition: they must be blind. Oliver Swan was the only applicant. Tesla hired him immediately. Whatever Tesla was working on, he didn't want to risk letting anyone see it.

Gustaf Gustav – The Detective

"A real detective doesn't make mistakes."

Once known as the inspiration for the mystery novel "The Detective So Good They Named Him Twice", these days this renowned Swedish Investigator is unemployed, bankrupt and alcoholic. He retired from police work in disgrace after an infamous killer convinced Gustaf of his innocence – whereupon Gustaf released him from custody. The killer went on to murder nine more people before he was finally recaptured. Gustaf is haunted by his mistake, and has vowed never to make it again. No matter what.

Flora White – Tesla's Ex-Assistant

"How did the murderer know Tesla's gun was empty?"

Flora has never been more alone: her husband only recently died at war, and when Tesla suddenly removed himself from public life, he immediately fired his assistant – Flora – much to her confusion. As a result, she has fallen on hard times, and has returned to Tesla's island to beg for her job back. She doesn't belong in this nest of snakes, but she is desperate.

Thomas Edison – Rival Inventor

"I am the father of modern age."

Self-proclaimed genius Thomas Edison is already known as the "Wizard of Menlo Park" thanks to his latest creation: the Phonograph. But what his adoring public don't know is that Edison stole the idea. Desperate to hide his crime, he travelled to the island when Tesla implied he was aware of Edison's wrongdoings. Could Edison have murdered Tesla to hide the truth?

Augustus Vanderberg – Wealthy Layabout

"Never has a man been worth so much, and achieved so little."

Son and heir to the richest family in England, the Vanderbergs, Augustus has never had to work a day in his life. He loves women, booze, and any pleasure he can get his hands on. And yet, he is quietly tortured by his need to impress his stoic father, Marcus Vanderberg – a legendary British engineer and railroad magnate. Augustus once had an older brother who drowned when they were children. His father still mourns "the better son". Perhaps Augustus' interest in Tesla is part of an effort to finally impress his father?

Oliver Swan – The Blind Butler

"Everything in this house is a matter of discretion."

Once a slave in Zanzibar, Swan escaped to the United States where he finds himself as an 'indentured servant' – perhaps not much of a change after all; made especially painful since he abandoned his young son to get there. Swan was born blind, making him the strange but ideal candidate to become Tesla's new assistant. After all, what Tesla wanted most was to "keep his secrets safe from prying eyes". Did Swan learn something about Tesla that could have motivated him to commit murder?

Victor Mundy – Ex-Convict & Murderer

"People lie because they're afraid. And I ain't afraid of nothin'."

Mundy is a murderer. Twenty six years ago, he killed his wife in cold blood when he found her sleeping with another man. He was convicted thanks to the testimony of his own young daughter Mary. In all the years he spent incarcerated, he became obsessed with taking revenge against his daughter. Mundy is a man of strange contrast: a vicious killer, yet also a God-fearing art lover. Killing is easy to a man like him. But why would he murder Tesla?

Sarah Bernhardt – Actress & Celebrity

"If you don't have secrets, you're terribly dull."

World-famous stage actress and member of the Comédie-Française in Paris. Bernhardt is one of the biggest celebrities of the age. She made her fame on the stages of France in the early 1870s, and was soon in demand in Europe and the Americas. She has developed a reputation as a serious dramatic actress, earning the nickname "The Divine Sarah", and was the first woman in history to play Hamlet on film. For years, she has been dogged by rumours that she is secretly a high class courtesan, but she doesn't care. Being mixed up in a murder investigation is quite a thrill to her – could she have killed Tesla just to make life a little less boring?
Watch a new trailer below. View a set of screenshots at the gallery.