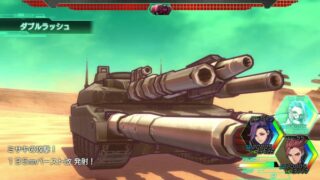 Kadokawa Games has released new information and screenshots of Metal Max Xeno introducing the "Type 10 Revised" tank and tank customization through performance-boosting Trait Chips.
Get the details below.
■ Newly Revealed Tank "Type 10 Revised"

As the latest model of the Japanese Self-Defense Force's main battle tanks, the Type 10 Revised is themed after a famous chassis. In Japanese, rather than "Jusshiki," the tank's name is read "Hitomarushiki."

—All you have to do is notice the little things to get this tank in relatively early in the game. If you are able to successfully acquire it, it will become an active chassis that plays a central role in the party.

■ Dramatic Tank Customization

Defeat the strong enemies and formidable foes that stand in your way with Trait Chips.

Trait Chips are special items that can be equipped to the Trait Socket of a tank's chassis. By equipping a Trait Chip, the tank becomes stronger and you can uniquely tune up it up. Trait Chips can be obtained from defeated enemies as item drops, as well as from relics stored in containers.

There are two types of Trait Chips: the active types that increase the attack patterns you can choose in battle and are selected on your own, and the passive types that improves performance by simply equipping. Equip your Trait Chips while considering the chassis' basic performance and the current vehicle equipment.

Trait Chip Example #1: "Anti-Aircraft Warfare"

—Wanted Monster: "Griftro" – A high-flying aerial fortress. Griftro is a strong enemy who is harder to hit than standard flying monsters.

—Griftro, which hangs in the sky at high altitudes, makes an airy descent when it finds its prey. Get the first shot using a long-range weapon with anti-aircraft capabilities.

—Even with increased anti-aircraft capabilities, standard weapons will not hit Griftro very hard. When you are no match for the enemy, rather than only look at your Trait Chips, be sure to review the armaments of the tank itself.

—By equipping the "Anti-Aircraft Capability" Trait Chip, the hit rate of all the weapons you have equipped will significantly increase in anti-aircraft warfare.

Trait Chip Example #2: "Maximum Firepower Warfare"

—Boss-Class Monsters: "Warship Saurus" and "Mothership Saurus" – Supergiant monsters familiar to the series that wear warship-like armor and weapons. They are insensitive and indifferent to small things, and pay no mind to half-hearted attacks. The Mothership Saurus has a queen-like presence.

—The Warship Saurus wanders around the field. It is an opponent suited for testing your skill, but not one that you can defeat quickly. It is good to challenge with the intention of seeing how far your stats have come.

—"Grand Rush" is the highest-class rush-type Chip that can fire all weapons simultaneously from holes one to five. It is necessary to fight against a supergiant body with the appropriate firepower. Increase your firepower as much as possible with firepower-focused rush-type Trait Chips and critical hits.
Metal Max Xeno is due out for PlayStation 4 and PS Vita on April 19 in Japan. A western release is also planned, but has yet to be dated.
View the screenshots at the gallery.