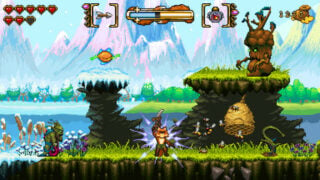 2D action platformer Fox n Forests will launch for PlayStation 4, Xbox One, Switch, PC, Mac, and Linux on May 17, publisher EuroVideo and developer Bonus Level Entertainment announced.
Here is an overview of the game, via EuroVideo:
Fox n Forests is a 2D 16-Bit style action platformer with RPG and puzzle elements, empowering you to switch seasons on the fly!

Set within a mystic forest and its surroundings, Fox n Forests is a stunning fable offering pixel perfect Retrotainment and rewarding challenges!

The game is inspired by the glorious days of 16-Bit and all time classics like Super Ghouls 'n Ghosts, Wonder Boy in Monster World, and ActRaiser 2 as well as the Castlevania and Zelda series.

You play as Rick the Fox and your weapon is a magic melee crossbow that can not only be used for ranged and close up combat, but empowers you to seamlessly switch between 2 seasons per level, completely changing the whole environment and resulting in amazing secrets, tricky skill tests and thriving exploration.

Pixel perfect platforming, screen filling bosses, rich bonus levels, powerful potions, bags of loot, stuffed shops, clever backtracking, challenging skill tests, a magic melee crossbow to shoot and slash enemies, upgradeable shots, not 4 but 5 seasons to explore, stunning 16-Bit pixel art, a catchy chip tunes soundtrack and tons of humorous retro charm, combined with the luxuries of modern game design will make Fox n Forests a worthy revival of games from the Golden Age.

Easy to learn, difficult to master, impossible to not fall in love with!
Watch a new gameplay video below.