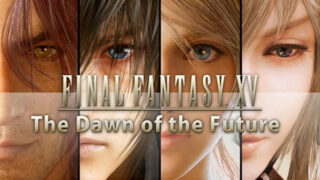 Square Enix announced several new updates regarding Final Fantasy XV during a panel at PAX East 2018 in Boston.
First and foremost, four new downloadable content episodes are planned for release in 2019. The concept for the new content is to realize "a future everyone longed for." The theme is an "alternate grand finale" where "our heroes will challenge their fates in order to realize the ideal future they envisioned."
Here is an overview of each upcoming episode:
Episode I: Ardyn "The Conflict of the Sage" (Working Title) (Winter 2019) – This story portrays the struggles of Ardyn. Witness the resentment he harbored towards Lucis for over 2,000 years, and his clashes with the Astrals.
Episode Side Story: Aranea "The Beginning of the End" (Working Title) (Spring 2019) – A side-story about the Starscourge depicted from the Niflheim's perspective. The final day of the Empire turns out to be Aranea's worst day.
Episode II: Lunafreya "The Choice of Freedom" (Working Title) (Spring 2019) – This story's about Luna's fate, which not even death can free her from. Her battle to save the one she loves overturns the destiny dealt to the Lucian King.
Episode III: Noctis "The Final Strike" (Working Title) (Spring 2019) – Parting ways with the Astrals, Noctis embarks upon his final battle in order to attain the ideal future for all his people.
Square Enix is also planning to release a standalone version of Final Fantasy XV add-on "Multiplayer Expansion: Comrades" in summer 2018. An update for the multiplayer game will also arrive in the summer, followed by a second update in the winter.
For Final Fantasy XV Windows Edition, Square Enix announced that it will release a mod organizer (with Steam Workshop support), avatar creation for the main story mode, and user treasure (hide items in the world for other players to find) this spring, and a level editor (creation of original maps and simple quests, placing of enemies and items, and creation of sequences) this fall.
Also announced was a Shadow of the Tomb Raider collaboration. Other than news of the collaboration, no other details were announced.
Final Fantasy XV is available now for PlayStation 4, Xbox One, and PC.