Dragon Quest XI for Switch delay due to outdated Unreal Engine 4
"It's still a long ways out."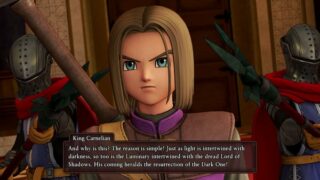 Dragon Quest XI: Echoes of an Elusive Age producer Hokuto Okamoto discussed more about the troubled Switch version of the RPG during an interview with GameSpot at PAX East 2018 in Boston.
"It's true that the Nintendo Switch version is under development at this moment in time," Okamoto told GameSpot. "Specifically with regards to the development, this game was developed on the Unreal Engine, but the version for Unreal Engine needs to be updated, I suppose, in order to support Switch. In that sense, the development is still expected to take a very long time. It's still a long ways out."
Hokuto made clear that the Switch version will definitely be released in the west, and that the while the team considered holding back the PlayStation 4 version to launch simultaneously with the Switch version, it ultimately decided against it.
"Of course, we did consider releasing the PlayStation 4 and Switch version around the same time if that was even a possibility, but right now the outlook for the Switch version is still unclear at this moment in time," Okamoto said. "The Japan team, they wanted to release Dragon Quest a XI and bring it overseas as soon as possible for our fans overseas, which is why they proceeded with the PlayStation 4 [and] Steam version[s] this time."
Dragon Quest XI: Echoes of Elusive Age will launch for PlayStation 4 and PC on September 4 in North America and Europe.