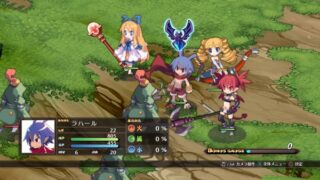 Nippon Ichi Software has released the first screenshots of Disgaea Refine, its upcoming high-definition remaster of Disgaea: Hour of Darkness for PlayStation 4 and Switch.
If you missed it last week, read up on the game's key features below:
Overhauled and Better-Looking Graphics

The graphics of the Disgaea: Hour of Darkness released in 2003 have been remade in high-resolution, and optimized for PlayStation 4 and Switch. The graphics of the in-game characters are highly detailed and consistent with the series' latest entry, Disgaea 5: Alliance of Vengeance.

Nonstandard Combat and Growth, and Endless Completionist Elements

Disgaea: Hour of Darkness is the origin of the penetrating game systems and endless completionist elements that the series has become known for. Level up to 9,999, and the damage dealt by your attacks will also increase. Develop your characters and strengthen your weapons—the more you play this series, the more expansive the nature of the games become.

Charming Characters and a Nonsensical Story

Demons, Overlords, and Angels full of individuality doing as they please. In this game, you can enjoy a nonsensical and thrilling story where the protagonist Laharl, in order to become a great Overlord, leads his vassals Etna and Flonne into battle to reclaim the Overlord's throne.

Limited Edition (9,200 yen)

Original soundtrack selection
Daily tear-off desktop calendar
Special box
Disgaea Refine is due out for PlayStation 4 and Switch on July 26 in Japan.
View the screenshots at the gallery.