Detroit: Become Human goes gold, demo launches April 24
Ask Amazon Alexa for guidance and information.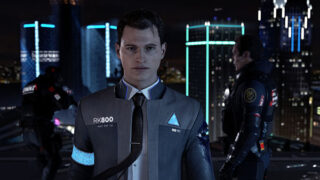 Detroit: Become Human has gone gold, meaning it has completed development, and a playable demo will launch via the PlayStation Store on April 24 at 12:01 a.m. ET, publisher Sony Interactive Entertainment and developer Quantic Dream announced.
The demo features the very first scene of the game, titled "Hostage." As part of the demo experience, Amazon Alexa has added a "CyberLife" skill, which can be used for guidance in the decision-making and investigation process, as well as to learn additional information about the demo's various characters. It will also give you insight on how to best alter your decision within the demo to achieve a different ending. Here are a few examples:
Tell Me About – Get more details as you examine every piece of the crime scene.
Try saying: "Alexa, ask CyberLife to tell me about the fish?"
What's Their Story? – Uncover the truth behind any character you find within the demo.
Try saying: "Alexa, ask CyberLife to tell me about the Phillips Family?"
Alter the Course of History – Using the Flowchart at the end of the demo, use the skill to discover alternate endings.


Try saying: "Alexa, ask CyberLife why Connor failed to reach Daniel in time?"
And here is a message from Quantic Dream co-CEO Guillaume de Fondaumiere on the game's completion:
We are extremely pleased and proud to announce today, that after four years of passionate crafting, Detroit: Become Human has officially gone gold!

During these four years, we have gone through all possible states and emotions that the development of such a challenging project induces: the pride of working on something special and unique, the doubt of attaining all our creative and technical goals, the hope when publicly releasing scenes and trailers and seeing players' positive reactions, the fear of not having enough time and resources to make everything perfect, the joy of finally seeing all parts of the puzzle come together, scene after scene, and finally being able to play the game from start to finish. And today, I guess it is with a mixture of all these feelings that we stand in front of you.

Detroit: Become Human is no longer our game. Instead, it will soon become yours. Yours to play, to own, to hopefully cherish. The fate of Connor, Kara and Markus is in your hands, along with the fate of all other characters in the game. Through your decisions and actions, you will have the opportunity to become the writer, the director and the main protagonist of the most branching story we have ever created. A story made of hopes, fears, sadness but also of joy and happiness. A story as much about us, humans, as it is about androids.

David Cage, the entire team and myself are proud of the work we have accomplished during these four years. We are grateful to all our wonderful actors, composers, artists and partners around the world who have lent their talent to making Detroit: Become Human the very special experience it has become.

We are also extremely grateful to our fans around the world. We have read all of your emails, all of your letters, all of your tweets and messages. Each of them has given us the inspiration to make the best possible game for our fans. Last but not least, we are extremely thankful to Sony and the whole PlayStation family for believing in us and enabling us to make our dreams come true.
Detroit: Become Human is due out worldwide for PlayStation 4 on May 25.
Watch a trailer for the demo below.